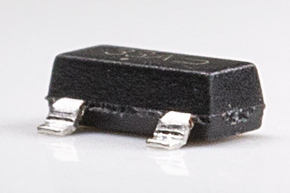 Circuit protection is installing a weak link in an electrical circuit intentionally in order to prevent excessive amounts of current or a short circuit. To ensure utmost safety, Future Electronics offers you a complete range of circuit protection devices, like circuit breakers, electronic fuses, ESD protection & diode arrays, thyristors, gas discharge tubes and more. 
Power Thyristors
A Power Thyristor is a solid-state component that acts as a switch to control voltage flow. We
bring
you a range of power thyristors to offer improved protection from over current in an effective way. They are robust and are used in applications involving high voltages
and currents. We also offer
silicon-controlled
rectifiers and TRIAC switches to provide nothing but improved circuit protection.
Gas Discharge Tubes
Protect any circuit the better way with Gas Discharge Tubes. Efficient GDTs respond quickly to transient over-voltage events to reduce the impact of power surges to your equipment. Most suitable for telecom applications, we offer efficient tube arrester and surge arrester gas discharge tubes available in varying power capacity.
Fuse Holders, Clips & Blocks
Fuse Holders, Clips & Blocks
We offer you a complete range of fuse holders, fuse clips and blocks that allow you to mount fuses easily to your devices. To ensure uninterrupted power supply and optimal performance, make sure the fuse and fuse holder has the same voltage and ampere ratings.
Electronic Fuses
An electronic fuse is an essential component that offers complete protection from load overcurrent that may occur due to short circuits, device failure or power overloading. An electronic fuse consists of a metal wire that melts to interrupt the circuit in case of over current and prevent damages to
the circuit which need to be protected
.
Varistors (MOV/MLV)
Excessive voltage is no longer a threat to your circuit when you have a varistor that acts as a resistor to reduce damage caused by current spikes. To offer nothing but improved circuit protection. We offer you high-quality varistors, metal oxide varistor (MOV) or multi-layer varistor (MLV). 
TVS Diodes
A Transient Voltage Suppression diode (TVS diode) offers improved circuit protection by diverting the voltage spikes in a circuit. It also provides damage control from electrostatic discharge. Protect your electronic devices the efficient way with the transient voltage suppressors. 
Resettable Fuses
A resettable fuse, also known as a PPTC Resettable Fuse is one of the effective circuit protectors that trips automatically when there is current overflow. Simple mechanism and effective damage control make PTC resettable fuse a great choice for portable electronics and industrial controls.
Protection Thyristors
Protect any circuit the dependable way with robust thyristors than function as a switch to control voltage flow. Protection thyristors are suitable for applications involving high voltages and currents. Categorized based on packaging On-State Voltage, Off-State Voltage and other attributes. 
Circuit Breakers
Protect everything from power tools and appliances to medical equipment and networking systems with our high-quality circuit breakers. A circuit breaker is a switching device that prevent damages caused due to overload or short circuit. 
ESD Protection & Diode Arrays
ESD Protection & Diode Arrays
Protect sensitive components of your tools and devices from ESD with exclusive range of ESD protection diode arrays. We offer high-quality TVS diode arrays that are categorized based on number of channels, directional type, maximum voltage, capacitance, and packaging type. 
No matter whether your business is big or small, our experts will help you to find the electronic components for your need to keep running your production
Mail us today at enquiries@root2source.com for an appointment and our executive will reach out to you shortly!